Weddings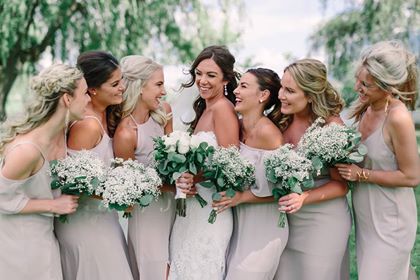 LaPier's Flowers has been creating beautiful days for couples for over 27 years. With your complimentary consultation, our wedding specialist, Marianne, will help you create the perfect floral arrangements and creative decorating ideas for your big day. And with a budget that fits you ,and your pocketbook too. Big or small, our staff is ready to take on any wedding size that you may require. Backdrops, ceiling designs, linens, chair covers, candy table services, custom invitations, wedding party flowers and centrepieces are just some of the products and services that we offer.

Is your wedding or special event out of town? No problem, we at LaPier's have travelled as far as Toronto, Windsor, Hamilton, Niagara Falls and everywhere in between to bring some magic to wedding couples. And we can do that for you too.
Call Marianne and book your free consultation today at 519 862 1414 or email her at lapiersflowers@bellnet.ca
We are ready to serve you!
"❤️ THANK YOU AGAIN FOR....E-V-E-R-Y-T-H-I-N-G!!!!! I cannot say enough about how dedicated, organized and passionate this company is when it comes to providing you with GORGEOUS flowers for your Wedding day! I worked with Marianne and she alleviated SO MUCH stress and worked with me on a budget while also giving me GREAT ideas how to incorporate flowers to match our small wedding ceremony and reception. You can tell they have been doing this a LONG time and have great ideas and advice when I couldn't make up my mind! As per Covid, our plans changed multiple times throughout the year and she kept me SO POSITIVE and wanted to make it special no matter what limit we were allowed. It turned out BEAUTIFULLY! From the centerpieces, to our bouquets, my amazing FLOWER CROWN AHHH!!!♥, along with our flower girl's, to our boutonnieres, and floral decorations for the aisle and on our decor for the day/night, I am extremely happy with our purchase! She came and set up everything in the hall beautifully and then came to our hotel room personally to deliver everything and make sure we were all taken care of. She travelled an hour to get to where we were! That's how much we didn't want to go with anyone else but LaPier's. We are impressed and so glad we trusted this business with our purchase for the biggest day of our lives and you can too! Thank you Marianne and the entire team at LaPier's Flowers & Gifts in Corunna!!!!"
"I can't say enough amazing things about this shop and Marianne!
Last year I began wedding planning and asked Marianne for services as I wanted to support local and had heard wonderful things. Best decision I've ever made... other than saying "I Do" which was made possible by her!
Marianne did my decoration at a venue in which you're expected to do everything! Everything looked absolutely stunning, nothing was cheap or just thrown together and she was able to take my very indecisive jumbled directions and turn it into something amazing!
I also utilized her service as a coordinator which was phenomenal as well! Her wonderful personality, great professionalism, and overall knowledge of doing this job really shined. Not only my husband and I but our families and wedding parties all agreed that Marianne made everything smooth, possible and beautiful that day. I had many compliments from guests as well as people involved in the wedding about how amazing she was! She was quick on her feet when we had a few hiccups, she was welcoming to my wedding party and guests plus she is such an enjoyment to be around because of her personality!
Thank you so much Marianne, you were an amazing help and I could not have done any of this day without your help.
I'd recommend this company to anyone who asks!"
-Megan S.